Cravings? Solved.
Posted on 

Taylor Miller / Andrew Richard / BuzzFeed
Note: Even though these are no-added-sugar snacks, we're including both sweet and savory recipes because we know ~snack cravings~ have a mind of their own. 😎
1.

 

Almond Butter Energy Bites With Date & Coconut

Ingredients: 2 cups medjool dates (pits removed); ½ cup roasted almonds; ½ cup almond butter; ½ cup unsweetened shredded coconut, divided; pinch of salt.
To make: Combine dates, almonds, almond butter, salt, and ¼ cup of the coconut in a food processor and blend until a sticky dough forms. (If dough is not coming together, add one tablespoon of water and continue blending.) Then wet hands and form dough into 2 tablespoon-sized balls, and roll in remaining shredded coconut. Let dry at room temperature for 2 hours before serving. Store in an airtight container.
2.

 

DIY Spiced Popcorn

Ingredients: ¼ cup coconut oil, melted; 1 teaspoon chili powder; 1 teaspoon curry powder; ½ teaspoon kosher salt; ¼ teaspoon ground turmeric; ¼ cup nutritional yeast; ½ cup popcorn kernels.
To make: In a small bowl combine chili powder, curry powder, salt, turmeric, and nutritional yeast. Set aside. Place 2 tablespoons of coconut oil and three popcorn kernels in a large heavy-bottomed pot over medium heat. Cover with lid and shake every 15 seconds. When all three kernels pop, the pot is hot enough. Take those three kernels out (so they don't burn), add remaining popcorn kernels, cover with lid, and shake every 15 seconds. Popcorn is done when popping slows to 5 seconds between every pop. Transfer popcorn to bowl, add remaining coconut oil, and toss with spice mixture.
3.

 

Chili-Lime Pineapple Cucumber Sticks


Ingredients: 5 jicama spears; 5 pineapple spears; 5 cucumber spears; 1 teaspoon chili lime seasoning; 1 lime wedge.
To make: Toss cut jicama, pineapple, and cucumber with chili lime seasoning in ziplock bag, and finish with a squirt of fresh lime. 
4.

 

Crispy Jalapeño Chickpeas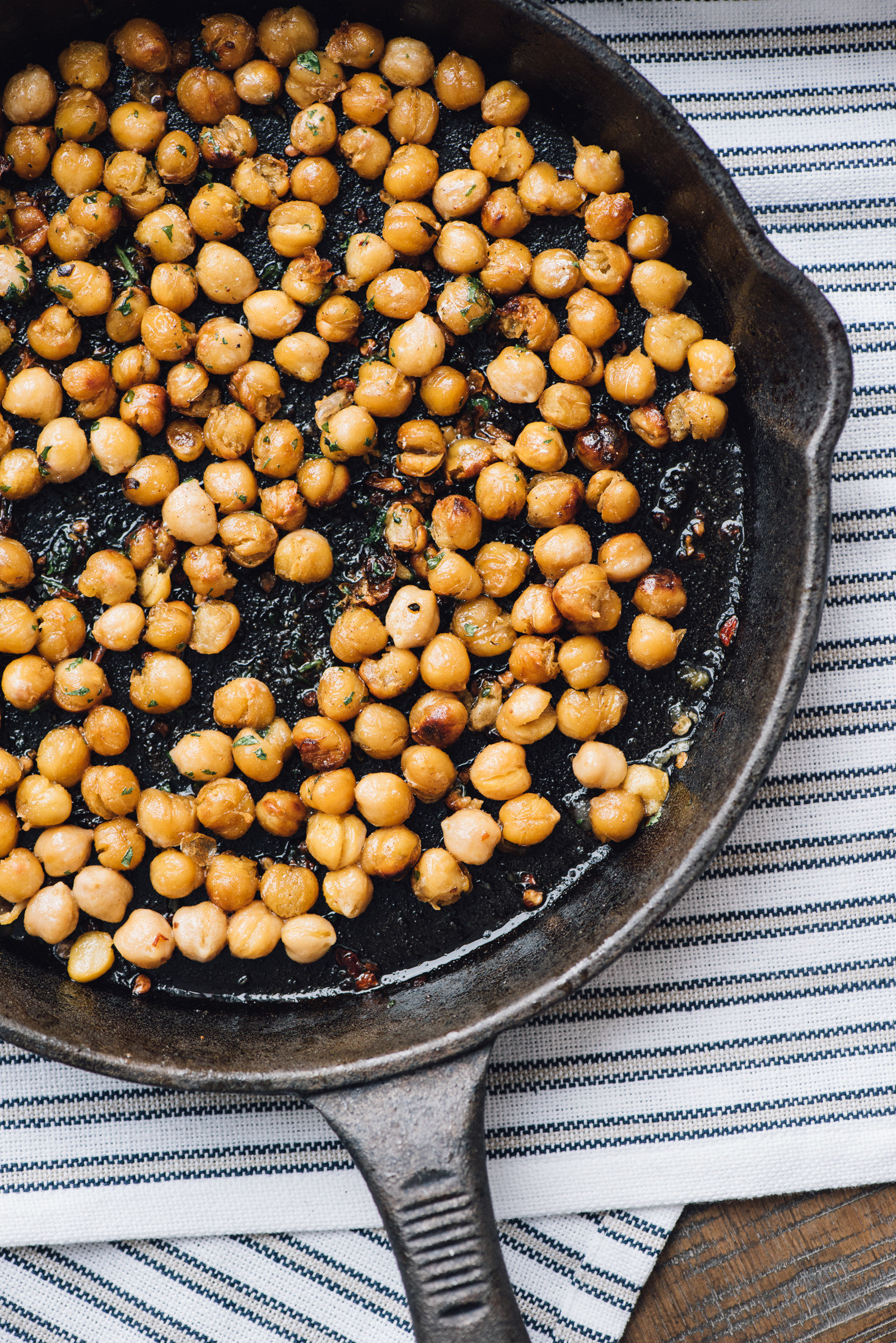 Ingredients: 1 can (15.5 oz) of chickpeas; 2 tablespoons olive oil; ½ teaspoon kosher salt; 2 teaspoons minced jalapeño; 1 tablespoon chopped cilantro.
To make: Drain, rinse, and pat the chickpeas dry. Heat olive oil in a cast-iron pan. Add the chickpeas, salt, and minced jalapeño. Cook, stirring frequently, until chickpeas are brown and crispy, about 10 minutes. Remove from heat and toss with cilantro.
5.

 

Fruit & Nut Box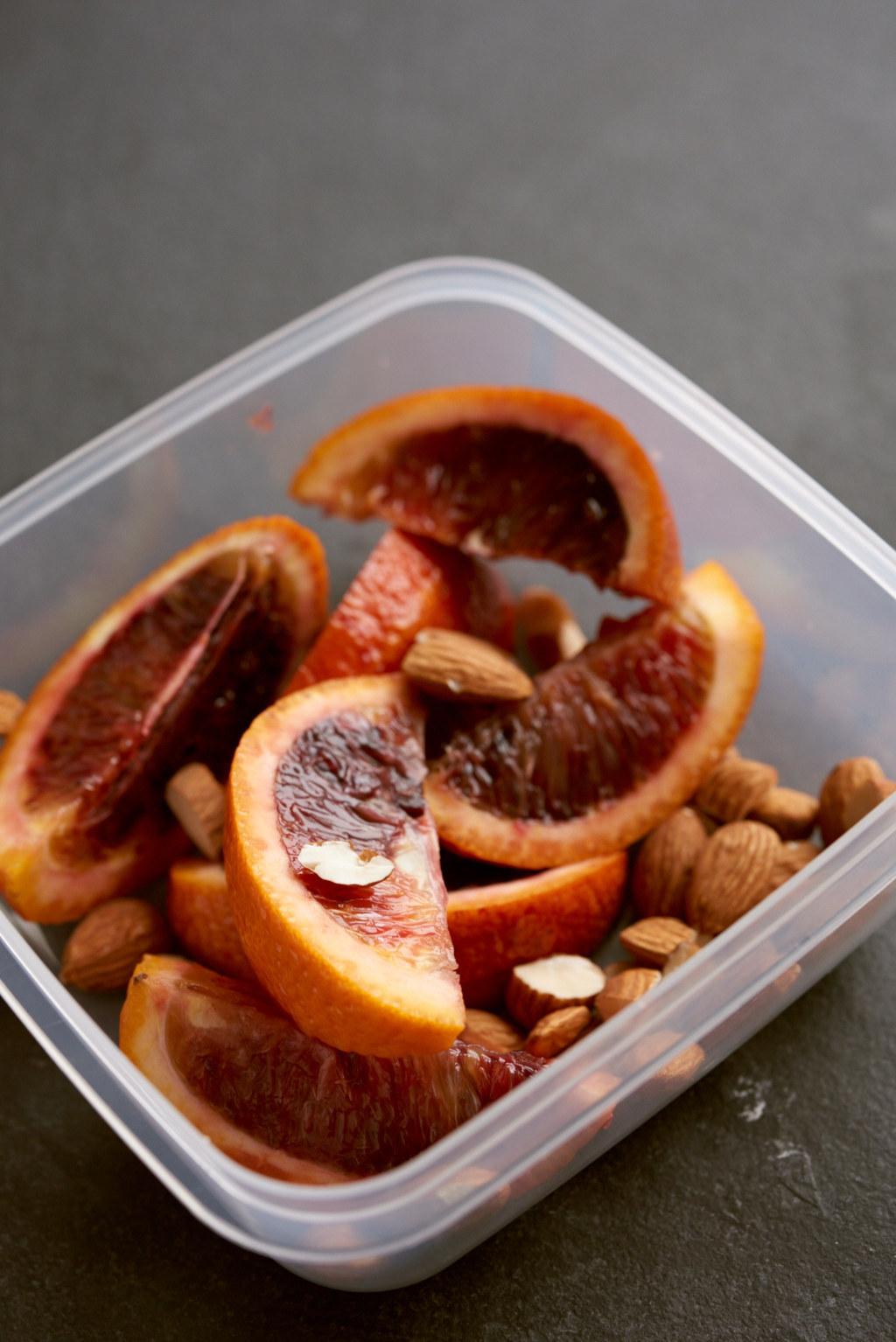 Ingredients: Any combo of the two! Some favorites: orange slices and almonds; apples and walnuts; blueberries and pistachios.
6.

 

Pita Chips With Greek Yogurt Tzatziki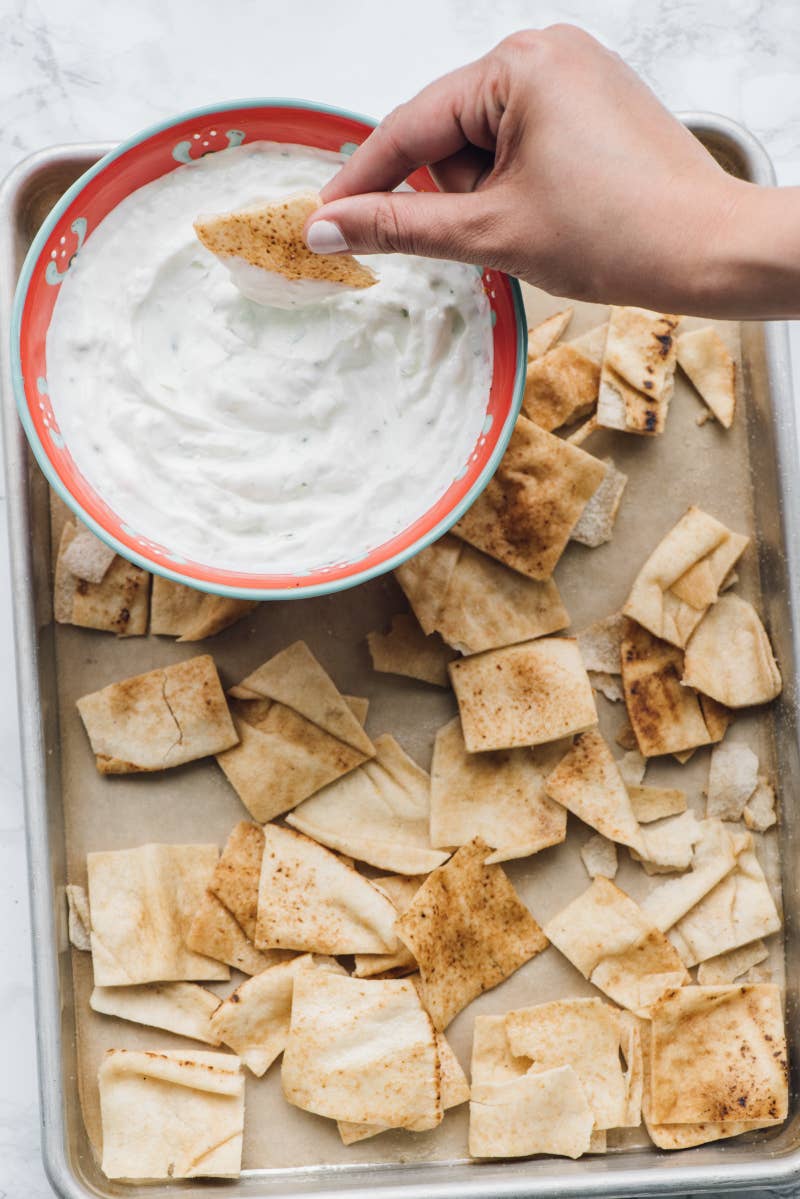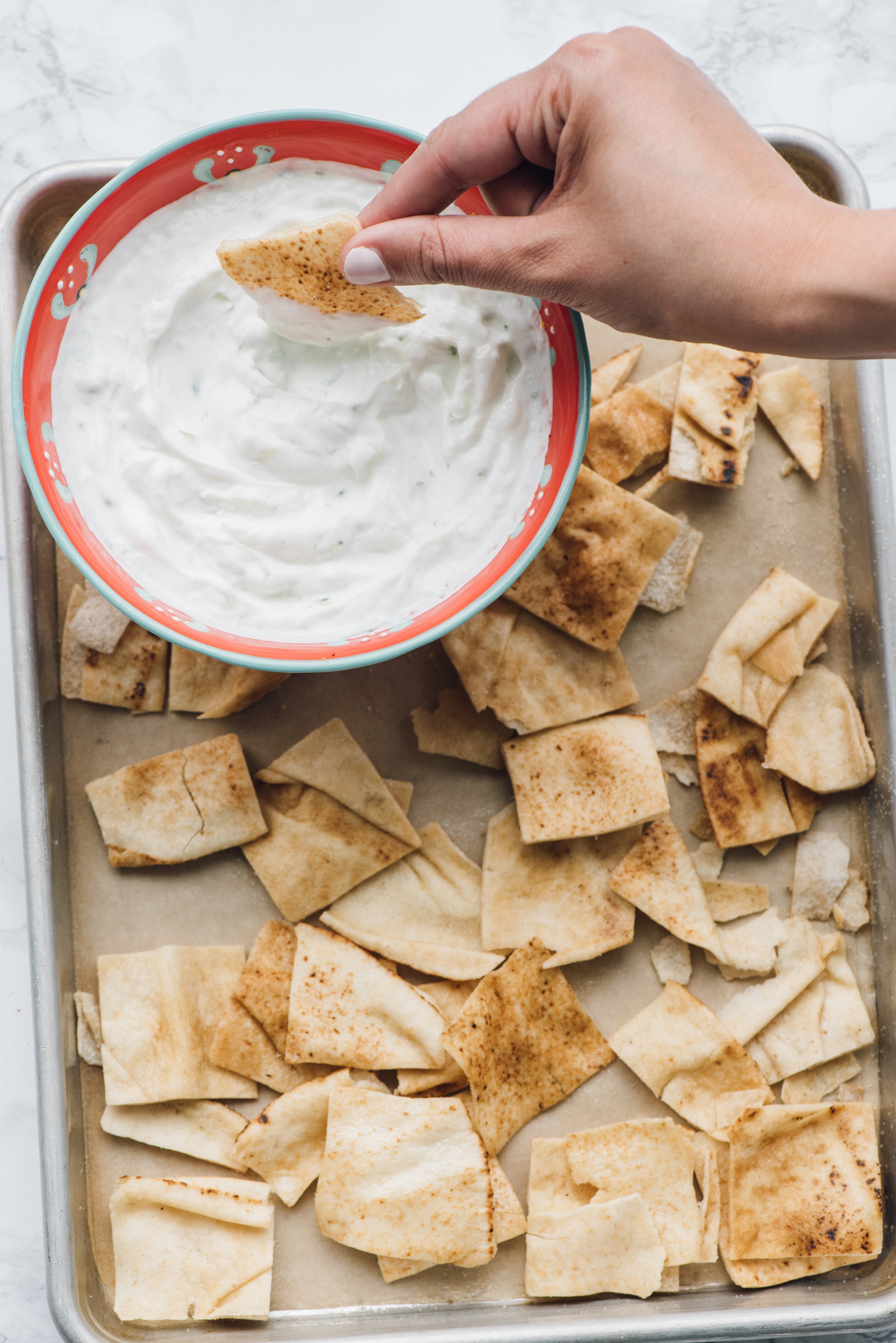 Ingredients:
Chips: 1 piece of pita bread, cut into 8 wedges; 2 tablespoons extra virgin olive oil; kosher salt, to taste.
Tzatziki: ¾ cup Greek yogurt; 1 cucumber; 1 tablespoon lemon juice; 1 tablespoon olive oil; ¼ teaspoon lemon zest; ¼ teaspoon minced garlic; ¼ teaspoon kosher salt; ¼ teaspoon ground black pepper.
To make:
Chips: Preheat oven to 400°F. Toss cut pita with olive oil and kosher salt and spread onto a baking sheet. Cook for 7 minutes until crisp and golden. Let cool. Serve with Greek yogurt tzatziki.
Tzatziki: Grate the cucumber and squeeze in a paper towel to remove excess moisture. Mix with yogurt, lemon juice, olive oil, lemon zest, garlic, salt, and pepper.
7.

 

Greek Yogurt Bark With Mango & Strawberry
Ingredients: 2 cups 2% Greek yogurt; 1 cup diced mango; 5 strawberries, sliced; ¼ cup unsweetened shredded coconut, toasted; zest of 1 lime.
To make: Combine Greek yogurt and mango in a blender and puree until smooth. Spread mixture onto a parchment-lined sheet tray into an even ¼" layer. Top with shredded sliced strawberries, coconut, and lime zest. Freeze uncovered until frozen, about two hours. Break into pieces and serve immediately. Keep any uneaten bark in the freezer.
8.

 

Baby Carrots With Lemony Beet Hummus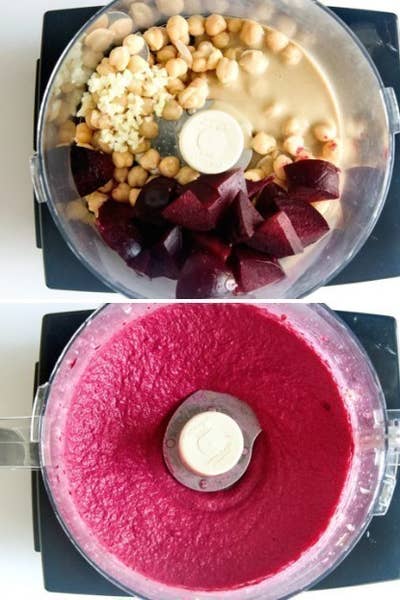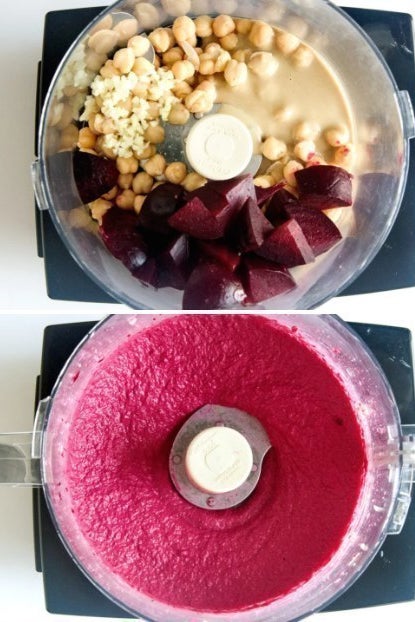 Ingredients: Baby carrots; 1 can chickpeas, drained; 1 pound beets, roasted and peeled; 1/4 cup tahini; 2 tablespoons lemon zest; 2 tablespoons lemon juice; 2 tablespoons olive oil; 1/4 cup water; salt and pepper, to taste.
To make: Combine all ingredients — except for baby carrots and water — in a food processor. Then process with 1/4 cup of water until it has a smooth, creamy texture, adding more water as needed. Serve with baby carrots.
9.

 

Five-Ingredient No-Bake Granola Bars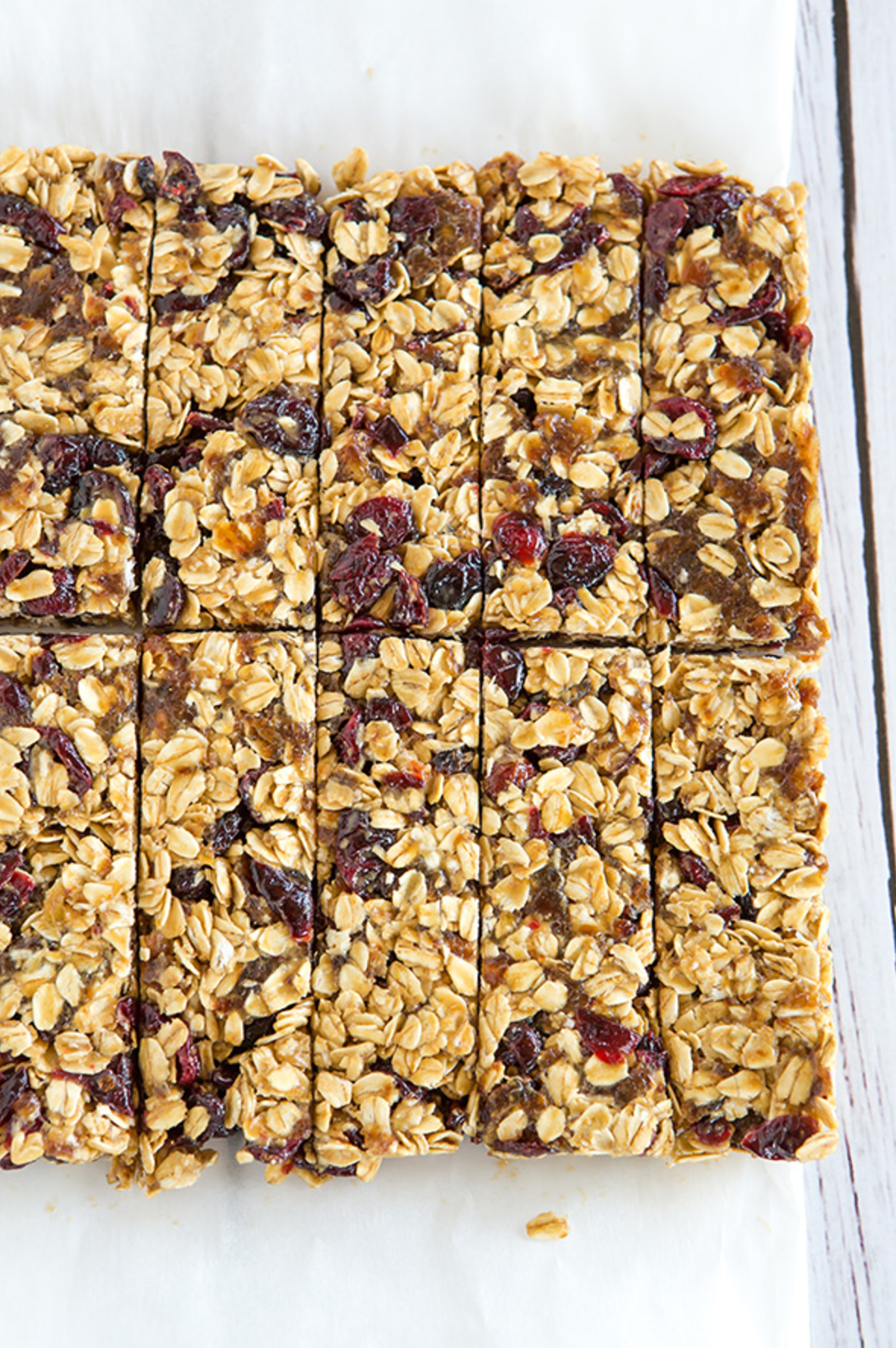 10.

 

Easiest Banana-Cocoa Ice Cream